Eucalyptus delegatensis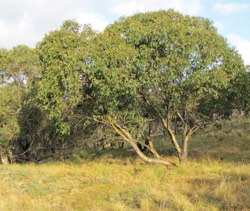 Small to medium (5–14m) tree with distinctive smooth grey‑brown to olive green bark on the upper trunk and main branches with a rough, dark stocking at the base and ribbons of bark in upper branches.
Juvenile leaves opposite, circular to pointy, blue‑grey without stems initially. Adult leaves are glossy green, parallel veined, with few 'island' oil glands, pointed to ovate 5–11cm long.
Star-like clusters of many small pointed buds in leaf axils produce white flowers March-June followed by cup shaped or globular fruits.
Distribution: Common in poorly drained or subalpine sites from eastern Victoria to similar high country sites in NSW north to Tenterfield, especially on basaltic soils. Near Canberra found in Namadgi National Park, for example the Orroral Valley.
It has been used for gum, timber and honey.