Eucalyptus nortonii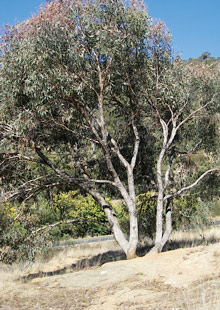 Small, rarely medium (8–15m) tree with rough grey-brown flaky bark that is thick and coarsely fissured especially at the base.
Juvenile leaves have no stalk, opposite and usually heart shaped or rounded, grey blue and leathery.
Adult leaves are dull blue green to grey green, 8.5–30cm long, alternate and pointed with hard to see oil glands. Buds in clusters of 7 produce white flowers February–March and cylindrical fruit.
Distribution: mostly from the southern part of the Northern Tablelands of NSW through hilly country of the Southern Tablelands and into north-eastern and central Victoria. In the ACT it is found along the Monaro Highway, at Tharwa and in the Gibraltar–Tidbinbilla areas. It occurs usually on poor, steep, stony soils. Also known as Long-leaved Box.