Eucalyptus pauciflora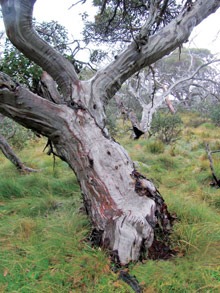 Small to tall (shrub to 30m) tree. Bark smooth, usually to ground level, creamy yellow or white with grey and sometimes reddish streaks. Insect 'scribbles' often prominent on the trunk in larger trees.
Juvenile leaves grey–green, opposite with no stems initially and oval. Adult leaves 6-18cm long curved or straight, opposite with few, parallel veins and 'island' oil glands. Buds in clusters (9-15) in leaf axils, conical with small tips. White flowers in October–January. Fruit moderately-large pear‑shaped with a flattish top and short stalk.
Distribution: wide across the tablelands and alps of NSW, southern Victoria and central and north‑eastern Tasmania. In the ACT it occurs from high mountain areas around Piccadilly Circus to lower elevation, frost hollows (e.g. Aranda Bushland). Also planted around Canberra city. Once used for fence palings, fuel, honey and ornamental purposes.